Laminator Manufacturer
GL- 490 Multi Lamination Machine
Laminator GL- 490 Multi Lamination Machine is a top quality A3 laminator with a plastic body and delivers high-quality lamination for documents for home office use or for a small organization.
It is a multipurpose laminator that comes with a:

Laminator,
Paper Cutter
A corner rounder.

It can laminate pouches from 80-125 microns.
It has a laminating width of 330 mm and laminating speed of 300 mm per minute.
It comes with two-roller system that ensures a flat finished document every time.
It is the most economical laminator
It comes a hot roller technology that allows for a more professional, crystal-clear, bubble-free lamination finish
High quality heating system prevents blistering and allows it to automatically switch off in case of over heating.
It has modern design release button that can be used in case of jams
It warms up in as little as 3-5 minutes, which is indicated by a light indicator
It comes with a hot and a cold switch
The compact design allows it to be appropriate for office desk or home office purpose.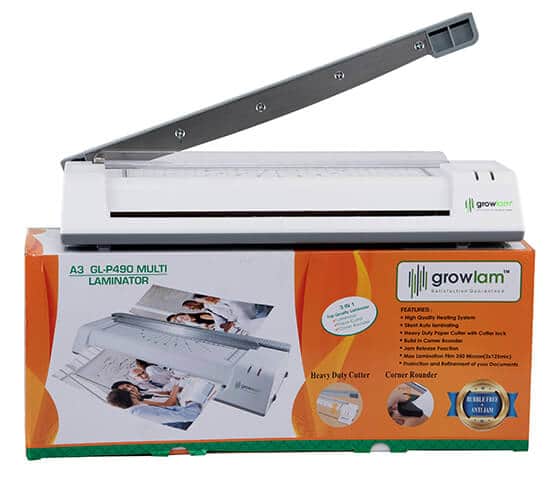 It comes with a high quality power cable making it compliant with stringent Indian standards
The laminator will automatically go into sleep mode if not used for more than 30 minutes
Product Features at a glance
Top Quality Laminator with 3 functionalities, laminator, paper cutter and corner rounder. Can laminate pouches from 75-125 microns
Fast warm up speed
Uses 2 hot roller technology
Automatically shuts down when over heated
Ideal for small offices and home office use
Laminating width: 330 mm
Laminating speed: 300 mm per minute
Jam release function
Hot/Cold Switch
Product Specifications at a glance
| | |
| --- | --- |
| Product Type | Pouch Laminator |
| Body Type | Plastic |
| Weight | 1.8 kgs |
| Application | For Laminating Pouches |
| Size | 420x145x100 (mm) |
| Packing | 4 pcs per box |
Laminator is a device that is used to fuse two pieces of plastic together with paper in between. One of the primary reasons to laminate any document or piece of paper is to preserve the quality of the paper/material being laminated. Laminator provides a protective barrier against moisture stains and fingerprints. Due to the added layer of the plastic, it makes the paper thick and still which also prevents the paper from being folded or cut.
A laminator can be used for personal use at home, offices, schools, businesses, large enterprises etc. Few of the many functionalities of a laminator include preserving photographs, business cards, ID cards, instruction manuals, recipes, scrapbooks, posters, banners, maps, signage, instruction boards etc. Deepening on the functionality, a laminator is needed for; there are several types of laminators in the market.
Please fill out the following information and a Growlam representative will contact you as soon as possible.