Laser Toner Cartridge
Model CB435A/ CB436A/ CE285A/ CC388A
These cartridges are compatible with most LaserJet printers.
This premium quality laser toner cartridge gives higher page yield, i.e. the number of pages that can be printed with a cartridge.
Increases the productivity by lowering the printing cost and is perfect for bulk printing
Engineered with advanced technology, which gives prominent and crisp printouts.
Growlam Premium Toner Cartridge enhances the efficiency of the printer manifolds.
This toner cartridge gives defined monochrome prints that last loner.
This product has an excellent shelf life during which the ink doesn't dry.
This product is environment-Friendly
Best quality Japanese Toner is used in GrowLam premium toner cartridge.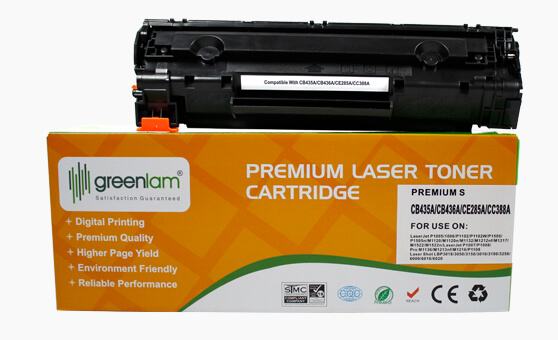 Premium toner cartridge has water resistant features that enable the printing to withstand water immersion that further prevents it from fading out or diluting.
| | |
| --- | --- |
| Application | For use in Laser printer CB435A/CB436A/CE285A/CC388A |
| Toner Powder Colour | Black |
| Cartridge Weight | 100 g |
| Page Yield | 2000 pages |
LaserJet P1005/ 1006/ P1102/ 1102W/ P1505/ 1505n/ M1120/ M1120n/ M1132/ M1212nf/ M1217/ M1522/ M1522n
LaserJet P1007/ P1008/ Pro M1136/ M1213nf/ M1216/ P1108
Laser Shot LBP3018/ 3050/ 3150/ 3010/ 3100/ 3250/ 6000/ 6018/ 6020
A laser toner cartridge is a consumable component of a laser printer. A toner cartridge comprises of toner powder, dry mixture of plastic particles, black or other coloring agents and carbon. A combination of these elements is what helps to print the actual image on the paper. The toner cartridge is transferred to the paper through electrostatically charged drum unit that then fuses into the paper with the help of heater rollers during the printing process. Toner cartridge is similar to the ink cartridge that is used in inkjet printing.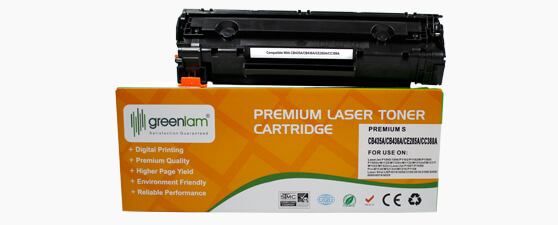 Please fill out the following information and a Growlam representative will contact you as soon as possible.