It has excellent ink absorption and instant dry characteristics making it smudge resistant.
It is water resistant for ease of handling, especially in tropical conditions
Smooth glossy surface for brilliant photo printing quality
Suitable for high-resolution printers
This high-quality glossy paper come in two sizes A4 size/210×297 mm and 6'x4' size making it compatible for any inkjet printer at home or office.
Support high resolution printers
Full toner gradation that helps to automatically adjust toner density (darkness) on the paper while printing or making a photocopy for better colour accuracy and image quality
Perfect colour saturation with beautiful tones
Ultra Glossy Photo Paper gives your prints a polished and professional look.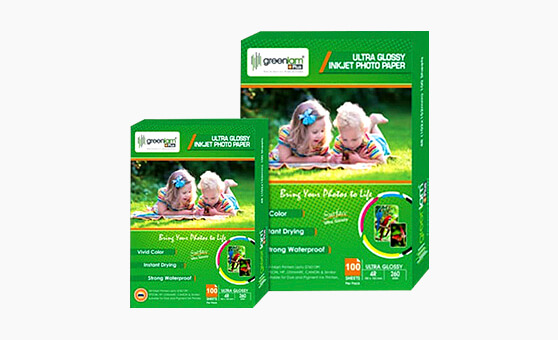 Fade resistant paper is perfect for framing
Print smudge free photos with vivid colours and incredible details with Ultra Glossy Photo Paper.
Ready to take your photos to the next level? Whether you want to print photographs for your personal use or you are a budding photographer looking to print photos for your projects or portfolio, Ultra Glossy Photo Paper is the solution. Bring out the beauty of your photos with our superior, high-quality and long-lasting photos with our ultra glossy photo paper and create an everlasting impression.
Are looking for Ultra Glossy Photo Paper in India, call: 91-7303800688 or email: info@growlam.in
Product Features at a glance
Excellent Ink Absorption
Smooth Glossy Surface
Water Resistant
Full Toner Gradation
Perfect Colour Saturation
Product Specifications at a glance
| | |
| --- | --- |
| Product Type | Ultra Glossy Photo Paper |
| Paper Size | A4 / 4″x6″ |
| Paper Weight | 260 GSM per sheet |
| Quantity | 100 sheets per pack |
| Application | Can be used for all Inkjet printers |
Print everyday pictures with vibrant colours on this Ultra Glossy Photo Paper by GrowLam. Whether you are looking to print for scrapbooks, albums, photo projects or photo printing, these quick-drying ultra glossy sheets of paper are a perfect solution.
Please fill out the following information and a Growlam representative will contact you as soon as possible.